Super pasiūlymas Skuodui!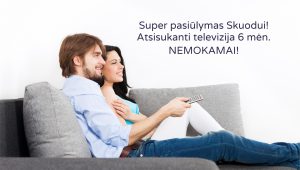 KAINA IŠTIRPO!
Super pasiūlymas Skuodo miesto daugiabučių gyventojams, esantiems šviesolaidinio interneto tinkle.
Pasiimkite atsisukančios televizijos Didįjį paketą net 6 mėn. NEMOKAMAI.
Matykite daugiau kaip 60 TV programų, dalis iš jų ir auštos raiškos HD formatu. Visas TV programas pamatykite puslapio apačioje paspaudus "TV tinklelis".

Minimalus paslaugų užsakymas tik 12 mėn. Likusį laikotarpį taikomos šiuo metu televizijai galiojančios akcijos. Plačiau spauskite čia.
Ne gana to visus 6 mėn. naudokitės atsisukančios televizijos TV priedėliu be jokių nuomos mokesčių!
Jeigu kyla klausimų drąsiai susisiekite uzsakymai@besmegeniai.lt arba 8 700 11 333
Malonaus žiūrėjimo!